Travel
Welcome to Reading!
Reading is in a prime location in the South-East of England. There are excellent transport links to London so getting there is easy and simple. Trains from London Paddington to Reading run approximately every 15-20 minutes throughout the day and the average journey time is around 30 minutes. Find out more at the National Rail website.

Direct links by train:
London Paddington – 30 minutes
Oxford – 30 minutes
Bristol – 1 hour 15 minutes
Birmingham – 1 hour 40 minutes
Cardiff –1 hour 40 minutes
Reading station is in the heart of the town centre. Once here, everything in the town centre is a short walk away. There are direct bus links from the station to the University of Reading.
The venue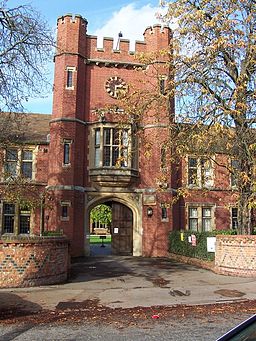 The University of Reading was established in 1892, and is now ranked in the top 1% of universities worldwide (QS University World Rankings 2015/16), with a world-class reputation for the quality of their teaching, research and links to business.
The congress will be held in the Palmer building, room G:10, located on the main Whiteknights campus.
Ground transportation to/from airport
Heathrow Airport is 40 minutes by direct Rail Air coach and London Gatwick is just over an hour away by train.

How to reserve a hotel room
Special discounted hotel rates are available and you can reserve a hotel room when registering for the congress.

The Wantage Hall Gate (Photo attribution:
Andrew King via Wikimedia Commons)
A custom Google Map for Neuroinformatics 2016
University of Reading main Whiteknights campus (Photo attribution: Andrew Smith via Wikimedia Commons)

Old Whiteknights House (Photo attribution: Andrew Smith via Wikimedia Commons)

The lake at the Whiteknights Park campus (Photo attribution: Chris Wood via Wikimedia Commons)

Useful links about travel and things to do in Reading